---
Event Details
WHEN:
January 28, 2009 @ 4:30 pm - 6:00 pm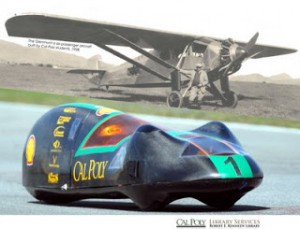 INAUGURAL PROGRAM: "Improbable Vehicles" will introduce work produced at and around Cal Poly on unusual vehicles of all kinds.
The program will feature four 10-minute talks by Cal Poly faculty, staff, and students, alternating with audience conversation and questions. Moderated by JOHN DUNNING, Cal Poly Research Scholar.
WHEN:
JANUARY 28th, 4:30p-6:00pm
WHERE:
KENNEDY LIBRARY, 2ND FLOOR CAFÉ LOUNGE
WHO:
ART MACCARLEY
"My Methanol Motorcycle"
ELECTRIC VEHICLE ENGINEERING CLUB
"RX7 Race Car Speeds Forward"
CAL POLY ROSE FLOAT
"Seaside Amusement"
HUMAN POWERED VEHICLE
"Athena Pedals to First Place"
ABOUT:
:: Thematically, without the oil crisis (resource substitution) the methanol motorcycle is improbable;
:: without batteries (technical push), the electric car is improbable;
:: without fiber composite materials (technical push), the human powered vehicle is improbable;
:: and without the Rose Parade (social demand), the float is improbable.
What are Driving Forces and Creativity behind these Vehicles?
–> Think About Them.
What will be Future Driving Forces and Creativity?
–> Bring Your Unique Perspective on the Future
What are Future Improbable Vehicles?
–> Stretch and Get Creative
---