---
Event Details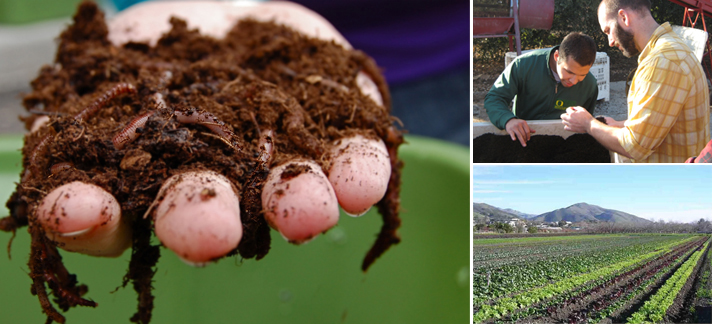 Vermicomposting can turn organic waste into high quality compost at Cal Poly and at home. Learn how at this Science Café!
Topics include the basics of composting, how microbiology is involved, and how it relates to small and large applied systems. You will see worms in action in a standard worm box and learn about why worm compost is prized by gardeners.
Event Information
Photos: On Flickr
Date: Thursday, May 24, 2012
Time: 11am – 12:30pm
Location: Kennedy Library, 2nd floor café lounge
Refreshments will be provided. Everyone is welcome and it's always free.
Featured guest speakers
Ralph Crevoshay, President, VermiVision

Crevoshay's career in horticulture has included research, production, marketing, online commerce, and certification. He has worked for well-known producers like Calavo and Dole and small businesses covering a diversity of crops from mushrooms to tropical fruits to floriculture. He's been active in produce industry associations, USDA trade missions, and agricultural sustainability initiatives.Ralph was trained in the scientific practice of aerobic composting during his years in the commercial mushroom industry. Decades later he came to learn that the methodology has been adopted as a best practice for commercial production of high quality vermicompost (VC). Recognizing VC as a high-impact transformative input for sustainable agriculture led him to become co-founder and President of VermiVision, Inc. in 2011.He holds a B.S. in Horticulture as well as certification in International Agricultural Development from the U. of Wisconsin/Madison. He has competed professional-level studies in International Agribusiness Management at Cornell.

Hunter Francis, Director of the CAFES Center for Sustainability

Hunter holds a Master's Degree in Agriculture from Cal Poly with a specialization in Soil Science. He is also a part-time lecturer and co-instructor of the Cal Poly Land Class: UNIV 330. Hunter worked for many years in the whole foods movement and has been active in the local community to promote regional agriculture through agri-tourism and place-based label initiatives. He is a Board Director of the Central Coast Ag Network and helped establish the Cal Poly Compost Project.
Co-sponsored by CAFES Center for Sustainability
Photo credits
Worms in hand photo by OrganicNation on Flickr. Farm and student photos courtesy of Cal Poly CAFES Center for Sustainability.
---