---
Event Details
WHEN:
April 16, 2010 @ 1:30 pm - 3:00 pm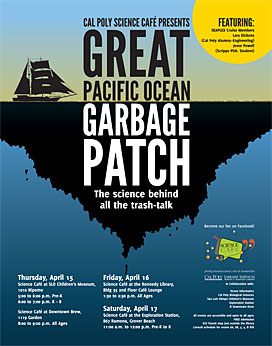 A thousand miles off California, the North Pacific Ocean Gyre contains one of the largest ecosystems on Earth — but it may be in danger from a deluge of accumulated plastic trash. Dubbed the "Great Pacific Ocean Garbage Patch," the debris at the center of the North Pacific Ocean has the potential to damage marine life and alter the biological environment.
Though this issue has recently received popular media attention, there was little scientific information available on the composition, extent, and effects of the debris. The small pieces of plastic that make up most of the material are not detectable by satellites or airplanes.
This is the story, shared by a scientist and a teacher who recently traveled to the Garbage Patch as part of a graduate-student led scientific research expedition, SEAPLEX (Scripps Environmental Accumulation of Plastic Expedition).

Join us to hear first-hand accounts, ask questions, and learn more.
Speakers: SEAPLEX cruise members, Jesse Powell, Scripps Institution of Oceanography and Lara Dickens, High School Science Teacher and Cal Poly Alum — Engineering
More Events: Thursday, April 15 and Saturday, April 17th — Community Science Café events on the same topic (Downtown SLO and Grover Beach). See below for more details.
Cal Poly Main Event: Friday, April 16
Science Café at the Kennedy Library, 2nd Floor
Café Lounge, Bldg 35 at Cal Poly
1:30 p.m. to 3:00 p.m.
Sampling in the Gyre II
Downtown Events: Thursday, April 15
Science Café at SLO Children's Museum
1010 Nipomo
5:00 to 6:00 p.m. Pre-K Watershed Science
6:00 to 7:00 p.m. K – 8 Watershed Science
Science Café at Downtown Brew
1119 Garden
8:00 p.m. to 9:00 p.m.
Sampling in the Gyre I
Grover Beach Event: Saturday, April 17
Science Café at the Exploration Station
867 Ramona, Grover Beach
11:00 a.m. to 12 noon
Pre-K to 8 More Watershed Science/Sampling the Gyre
Download: The event poster
View Event Photos:On Flickr
SEAPLEX Video
Photographs and video of the SEAPLEX expedition are from the Scripps Institution of Oceanography.
Event Sponsors:
Cal Poly Biological Sciences
Downtown Brew of SLO
Exploration Station of Grover Beach
Ocean Informatics
Scripps Institution of Oceanography
SLO Children's Museum
---