---
Event Details
WHEN:
October 18, 2012 @ 11:00 am - 12:30 pm




How do you get to where you're going? What does that mean for your health and your community? Join James Rojas and Cal Poly researchers approaching these questions in an interdisciplinary way. At the next Science Café, we'll discover our transportation habits, interactively explore alternatives in our own community, and build our perfect city.
Watch the video
Special Guest
James Rojas
Founder, Place It!
James holds an MA in City Planning and an MS in Architecture Studies from MIT. He works as a city and transportation planner, and is the founder of the Latino Urban Forum, a non-profit dedicated to increasing awareness of planning and design issues facing low-income Latinos.
Featured Cal Poly Faculty
Beverly Bass
Assistant Professor, Landscape Architecture
Beverly's areas of expertise and interest include: sustainable planning and design, smart growth principles and community outreach.
Kelly Main
Assistant Professor, City and Regional Planning
Kelly's areas of expertise and interest include: Planning and community outreach in culturally diverse communities, place attachment and identity, public health and the built environment.
Heather Starnes
Assistant Professor, Kinesiology
Heather's areas of expertise and interest include: Built environment and health, ecological models of health behavior, measurement of the built environment for physical activity research.
Moderated by
Stephanie Teaford
Community Liaison for STRIDE (Science through Translational Research in Diet and Exercise)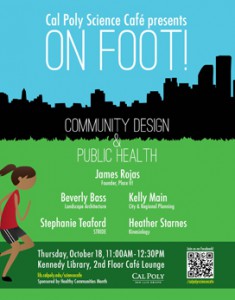 Download The event poster
Sponsored by
HEAL-SLO
Landscape Architecture Department
Kinesiology Department
STRIDE
City and Regional Planning Department.
Photo at top of page:
Northern Spark on Flickr (Creative Commons)
---