---
Event Details
WHEN:
January 11, 2012 @ 11:00 am - 12:30 pm




Richard Branson is selling flights to the edge of space that you can soon take (for a fee). Find out how technology is making commercial travel to space possible with our featured speaker, Professor Dianne DeTurris, who specializes in propulsion and high-speed aerodynamics.
Will you be going to space soon? Find out exactly how you'll get there at March 5 on a rocket plane.
From the event
Listen to the podcast
See event photos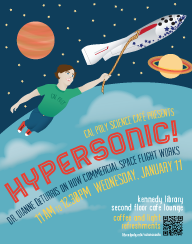 Download The Event Poster
Featured Speaker

Dianne DeTurris (Professor, Aerospace Engineering, Cal Poly) has degrees in Aerospace Engineering from Georgia Tech, Penn State and Virginia Tech. Her PhD research was in hypersonic airbreathing propulsion.
Before joining Cal Poly, Dr. DeTurris was part of the research faculty at the College of William & Mary. She was also a Post-Doctoral Fellow for the National Research Council at NASA Langley Research Center and worked on fighter performance analysis for General Dynamics Fort Worth Division.
Dr. DeTurris is currently on a special assignment to the Provost as Director of Global Technical Education Initiatives. Since coming to Cal Poly in 1998, she has taught undergraduate and graduate level aerothermodynamics and propulsion courses. She is faculty advisor for Cal Poly Space Systems, which concentrates on research in high-power rockets. She is former Co-Chair of the Aerospace Engineering Department.
---