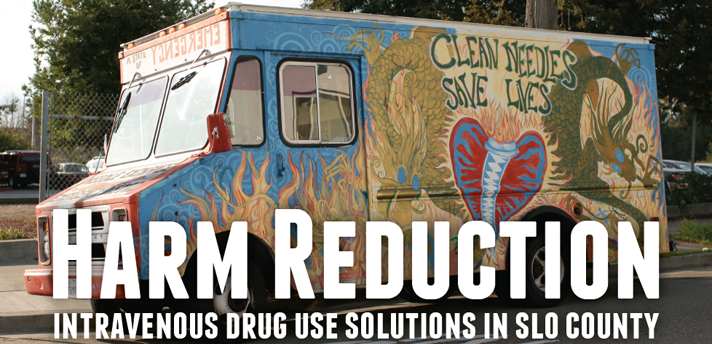 Harm reduction is a set of practical strategies that reduce negative consequences of drug use, incorporating a spectrum of strategies from safer use, to managed use to abstinence. Harm reduction strategies meet people who use drugs "where they're at," addressing conditions of use along with the use itself, such as distributing "Overdose Prevention Kits."
Because harm reduction demands that interventions and policies designed to serve people who use drugs reflect specific individual and community needs, there is no universal definition of, or formula for, implementing harm reduction.
At this event
We'll hear from a Cal Poly Biological Sciences faculty/student research team who evaluated a needle-exchange program, approved by SLO County Board of Supervisors, administered by SLO County Public Health department, funded by HIV/AIDS prevention money, and run by volunteers. Having lost external funding, the local exchange still operates relying on private funding and volunteer support. Perspectives on local harm reduction strategies and global issues will be shared by Cal Poly's research team to spark a conversation about this practical approach to living with drug use.
Featured Speaker
Dr. Candace Winstead
Cal Poly Assistant Professor Biological Sciences
Janelle Barbier, M.S.
Alumna (Biological Sciences, '09)
Community leaders, SLO
Working with harm reduction in SLO County
Sponsors
Department of Biological Sciences, Cal Poly
AIDS Support Network — SLO
What is harm reduction?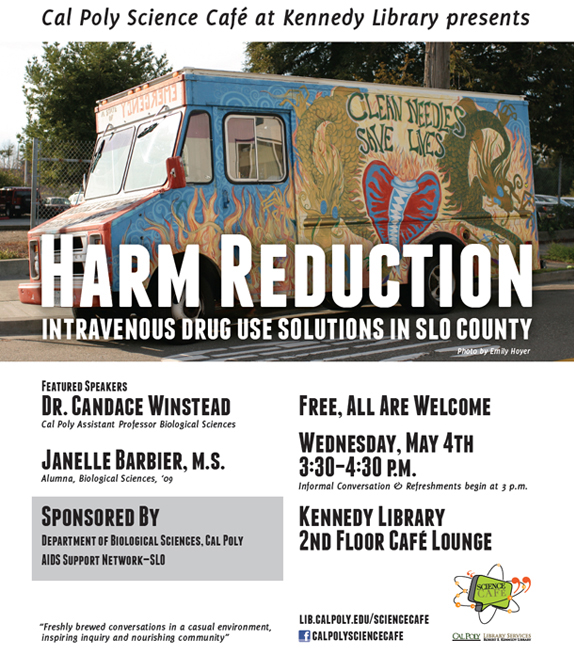 Download the event poster