---
Event Details
This event finished on 19 May 2017.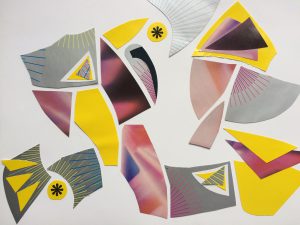 "The Unreal World: Art from the Drop-In Collage Workshop" features collage works created in the library during a free, drop-in workshop comprised of Cal Poly students, faculty and staff. As a concept, collage can be found everywhere today, from hip-hop mixtapes to fashion design to architecture, and the medium draws out complicated issues surrounding creativity such as the ethical and legal divisions between inspiration and theft.
The Drop-In Collage Workshop was jointly coordinated and hosted by Architecture Professor Jen Shields, Architecture & Environmental Design Librarian Jesse Vestermark, and Architecture 2nd-year student Elijah Williams.
---