---
Event Details
WHEN:
April 2, 2009 @ 3:30 pm - 4:30 pm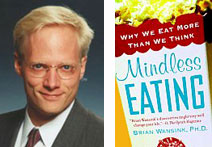 Nicknamed the "Sherlock Holmes of Food," Brian Wansink is an expert in nutritional science, behavior and food psychology. His research focuses on the issue of how the immediate world around us influences our everyday eating habits. He is also a national bestselling author and recent executive director of the USDA's Center for Nutrition Policy and Promotion.
Join him for an informal conversation at the Science Café at 3:30. Wansink will also be speaking at 7pm on April 2 at the Performing Arts Center, on "Mindless Eating: Why We Eat More Than We Think." The evening will include a question and answer session and a book signing following the presentation.
Presenter: Brian Wansink, Professor, Cornell University
Introduced by: Ann McDermott, Director, COPE, Kinesiology Department
Moderator: Jeanine Scaramozzino, Librarian for the College of Science and Mathematics
Event Sponsors:
Kennedy Library, Kinesiology Department and the emerging Center for Obesity Prevention and Education, and the Cal Poly Nutrition Club.
---