---
Event Details

100 Years of Delivering the News: Celebrating the Student Press at Cal Poly
Kennedy Library, 2nd floor
October 14th – December 9th, 2016
100 Years of Delivering the News offers a journey through the past century as seen through student eyes. Student-led research in the university archives, stories of distinguished Cal Poly alumni, photographs, and media innovation come together in this collaborative exhibit celebrating the centennial anniversary of Mustang News.
Sponsored by:
• Robert E. Kennedy Library, and the
• Journalism Department
Opening Reception:
Kennedy Library, 2nd Floor
Friday October 14th, 2016
2:00–3:00 p.m.
Plan A Visit
The exhibit is open during regular business hours.
Metered parking is available in the H2 lot adjacent to the Library.
Additional parking is available by purchasing a $5.00 general use permit from the Grand Avenue kiosk.
Questions?
(805) 756-6395
ude.yloplacnull@llijurtc

See the companion exhibit:
Reading the Headlines in Special Collections, 4th floor | Oct. 14 through Feb. 17, 2017.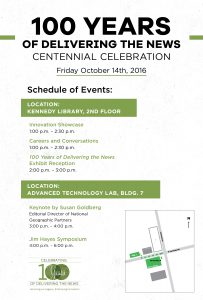 ---