Zimbra Briefcase Replaces "Student Storage" Drive
Beginning Fall 2008, students will use their Zimbra Briefcase to store documents instead of the Student Storage drive.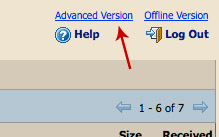 Using Zimbra Briefcase to Store Files
Enable "Advanced Version" of your Zimbra Email webclient
Upload files of any type up to your quota
Share the Briefcase(s) with individual users or groups, including Public users
Other storage options
USB flash drives, available for purchase at Pony Prints
Email files to yourself as attachments
Share files in Blackboard
Faculty can use Blackboard to share files with classes. See Blackboard Support for assistance.