Academic Commons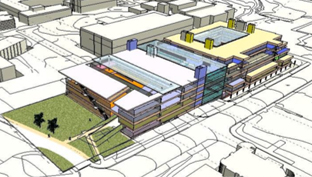 The world of learning and information has undergone significant transformation since the Robert E. Kennedy Library was completed in 1980. Program planning for an expanded Academic Commons began in 2007. Design and construction phases are expected to take four years once the project has been fully funded.
"The new Academic Commons offers Cal Poly a critical opportunity to redefine how it can best support students in a 'learn-by-doing' environment."

— Michael Miller
Dean of Library Services, June, 2011
The new Academic Commons will be a LEED-certified building of nearly 113,000 gsf, connected with the original Kennedy Library by a broad, above ground concourse. Formal and informal meeting spaces, including ample collaborative spaces, will encourage interactions among students, faculty, and staff from across the entire campus and community.
The Commons will feature observable classrooms, digital media production and rehearsal suites, meeting rooms, multi-purpose rooms, a gallery, exhibit spaces, presentation venues, and community resource areas.
In addition, the Commons will be a hub for campus organizations that are integral to student academic life, including:
Academic Skills Center
Disabilities Resource Center
Honors Program
International Education Programs
Multicultural Center
Writing Center
Giving opportunities
Our "Academic Commons" giving web page has more information on giving opportunities.